Enrique
Enrique
Ship
Delphinus
Birthday
Purple March 4th
Age
25
Height
175cm (5'9")
Weight
63kg (138.9 lbs)
Weapon
Rapier
Hobby
Reading
Weakness
Ships (seasickness)
Goal
A world without war
Conviction
To correct the path Valua is taking
Relative(s)
Teodora (mother)
Gregorio ("uncle")
Japanese Voice Actor
Sōichirō Hoshi
English Voice Actor
Robb McCulloch
Enrique (エンリック) is the son of Empress Teodora and the Crown Prince of the Valuan Empire. In the military country of Valua, he is a moderate who insists on making friendly relationships with other countries. He has a very strong sense of justice and objects to Teodora's and Galcian's unyielding world conquest. Conversely, he is also rather fainthearted under the pressure of his mother's berating.
All playable characters predominantly wear a color of the month they were born in, in Enrique's case Purple March.
Eternal Arcadia Gouka Visual Book
[
edit
|
edit source
]
バルア帝国皇太子。諸国との友好を主張する
穏健派であり、テオドーラやガルシアンの強
硬な植民地主義には異を唱えるが、逆にテオ
ドーラにやりこめられてしまうような押しの
弱い面がある。

Official Eternal Arcadia Legends Site
[
edit
|
edit source
]
バルア帝国の皇太子、つまりテオドーラの息子にあたる。軍事国家のバルア帝国にありながら、他国とは友好的な関係を結ぶべきと主張する、まじめで正義感の強い皇子。
やや気弱なところがあり、母をいさめようとして逆に気おされてやりこめられてしまうこともしばしば。

Enrique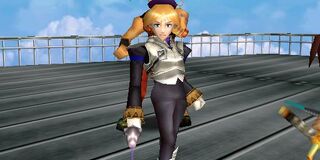 Initial Statistics
Lv
24
Power
102
Attack
224
MAXHP
2423
Vigor
93
Defense
232
MAXMP
14
Will
129
MagDef
232
Spirit
2
Agile
16
Hit%
105
MAXSpirit
9
Quick
105
Dodge%
21
Initial Equipment
Weapon
Rapier
Armor
Enrique's Coat
Accessory
Imperial Crest
Enrique is a playable character in Skies of Arcadia.